Digital Returns

Making life a little easier for e-retailers and shoppers alike
Improve your customer experience with digital return solutions
What are digital returns?

The consumer fills in the return details in your online store and receives a QR code sent to the PostNord App, as an SMS or to an email address.
The consumer packs the return and goes to the service point that suits them best and shows the QR code there. A return label is printed at the service point.
The consumer receives a receipt for the submitted return and can track the parcel all the way back to you in the PostNord App.
How to get started
You need to be a service agreement customer with PostNord and have an account in the PostNord Developer Portal
We set up a custom return page for your website
You link to the page from your channels
On this page, your customer can fill in information and receive a QR code for immediate return
No development required from you and no customer service required to generate returns!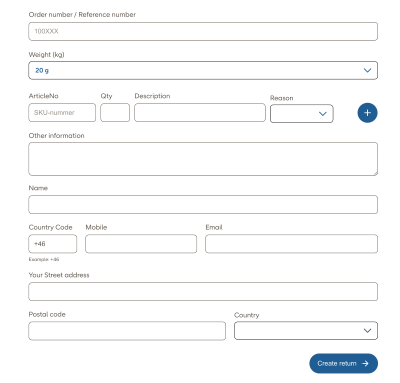 Enjoy the benefits of digital returns
The previous paper-based return solution is replaced by a convenient, digital return process. The solution is based on a web page that we set up for your e-commerce activities. You link to the page from your channels. The consumer registers a return via the web page and receives a QR code.
Save money
Save time
Sustainable option
Decathlon thrives with digital return solution, boosting customer and staff satisfaction
"This digital solution has given me time to take care of my team who, in turn, can take care of our customers. It has meant more satisfied customers and staff for Decathlon"
Pontus Björnström
Decathlon
What is a digital return solution?
A digital return solution is an online platform that facilitates and streamlines the process of returning products purchased online. It includes features for initiating returns, generating return labels, tracking return shipments, and processing refunds or exchanges.
How does a digital return solution benefit customers?
Customers benefit from digital return solutions by offering convenience and efficiency. They can initiate returns online, print return labels at home, and track the status of their return, reducing the hassle of returning products and providing a seamless experience.
What are the advantages of using a digital return solution for retailers?
Retailers benefit from digital return solutions by improving customer satisfaction, reducing return-related costs, and enhancing operational efficiency. Providing valuable data and insights into return trends, which can help retailers make informed decisions.
Can customers track the status of their return using a digital return solution?
Yes, the digital return solution offers a tracking feature that allows customers to monitor the progress of their return.
How are refunds processed through a digital return solution?
Refunds are typically processed back to the original payment method used for the purchase.
How long does a return take?
A return is usually delivered wihtin 1-2 working days from the time it is handed in at service point/agent or picked up by us.
Why should I use PostNords return services?
Our return services provides faster, simpler and more secure returns for customers and companies.
How do returns with a QR-code work?
When you create a return with a QR-code we will send an SMS/Email to your returning customer with QR (also in PostNord App). Returning customer brings the QR-code to any service point of ours and a label will be printed on demand after scanning.