INTERNATIONAL E-COMMERCE
Strong global growth for e-commerce
Shopping online is flourishing around the world.
In 2020, global e-commerce grew by 28 percent, with the largest increase in Latin America (37 percent). In Europe, e-commerce grew by 29 percent in Central and Eastern Europe and 26 percent in Western Europe.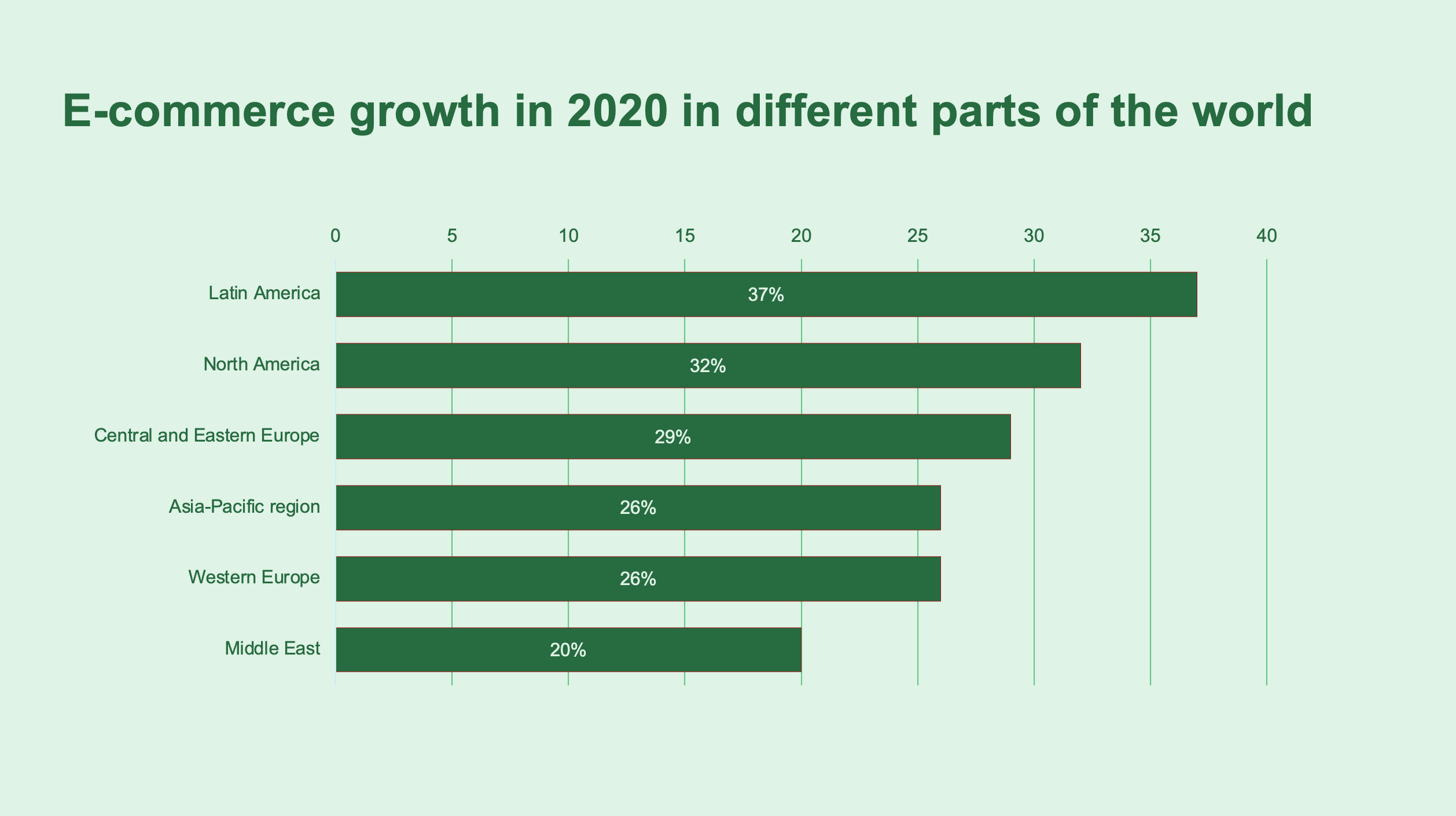 The main reason for the increase is the coronavirus pandemic. However, global e-commerce growth is likely to be lower in 2021. This is partly because more physical stores are reopening and partly because several years of forecast growth were already realized in 2020 due to the pandemic. Despite expectations of slower growth, consumers have increasingly started to shop online, indicating a global adaptation to e-commerce. However, this varies between countries, with Germany and Belgium, for example, having a higher proportion who say they will return to stores after the pandemic.
Strong e-commerce market in Sweden
Sweden is one of the most mature e-commerce markets in Europe in terms of how many people make online purchases. In our E-commerce in Europe 2021 report, all of 96 percent of Swedish respondents said they had shopped online during the year, the highest percentage in Europe, followed by the UK and Finland.
When it comes to the amount consumers estimated they spent shopping online during the year, Sweden is at a more average level. In a year, the average Swede spends EUR 1,932 on e-commerce. This can be compared to the UK, for example, where the equivalent figure was EUR 2,316. One explanation for the difference may be the UK's more developed online grocery sector, which is driving up annual online consumption.
As in previous years , the UK and Germany continue to be the largest European e-commerce markets. Both countries have large populations, high average purchases and significant percentages of e-commerce consumers. In Germany, more than 60 million consumers shop online and in the UK nearly 50 million.
Increasing numbers of Europeans are shopping online – but fewer from abroad
The number of Europeans who shop online continues to grow steadily. In 2021, an estimated 297 million European consumers shopped online, compared to 293 million in 2020 and 286 million in 2019. Thanks to the growth of e-commerce and the extensive roll-out of digital infrastructure in many parts of Europe, this trend has been sustained. For example, 5G technology is being rolled out in Europe, enabling higher transmission speeds for digital information. This, in turn, can improve the experience of live shopping, for example, or enable brand-new services that require high bandwidth.
Although more Europeans shopped online in 2021, fewer bought goods from abroad than in the past. 216 million European consumers said that they made online purchases from abroad in 2021 One reason for the decrease was the closure of ports due to the coronavirus pandemic. There has also been a shortage of containers. This has caused major delays in the world's supply and logistics chains, particularly in Asia. In addition, the UK, which has been an attractive market for European e-commerce consumers, has also lost out due to Brexit.
Wish has lost market shares in Europe during the pandemic
Platform-based companies, like e-commerce, have benefited from the digital boom of the pandemic. However, some platforms have fared better than others in European countries. In Sweden and the Netherlands, the number of consumers shopping on Amazon increased by around 12 percent and 9 percent respectively compared to 2020, which is the largest increase in Europe. In the case of Sweden, this is probably due to Amazon establishing operations locally. Zalando has also seen growth in Europe, including an increase of around 4 percent in Scandinavia.
Wish, on the other hand, has gone in the opposite direction, losing market shares in Europe. In Denmark, Norway and the Netherlands, the share of Wish users decreased by around 6 percentage points in 2021 compared to the previous year. This is the same trend that we see in Sweden, for example in the list of consumers' favorite companies, with Alibaba/Aliexpress also losing share. This is likely a consequence of general uncertainty in China regarding production, shipping and logistics.
Source: The E-barometern annual report 2021